BIMEET
A new partnership with a European BIM qualification framework to improve training on energy efficiency.
The House of Training is one of 9 partners of BIMEET, a new European project around BIM technology coordinated by the Luxembourg Institute of Science and Technology.
BIMEET promotes Building Information Modelling (BIM) training to enhance energy efficiency of buildings. BIM is paving the way to more effective multi-disciplinary collaborations through the entire lifecycle and through the overall supply chain. As defined by buildingSMART alliance Building Information Modeling (BIM) is a digital representation of physical and functional characteristics of a facility. A BIM is a shared knowledge resource for information about a facility forming a reliable basis for decisions during its life cycle; defined as existing from earliest conception to demolition.
BIM holds the critical key to revolutionize the construction industry, which is forecasted to reach over $11 trillion global yearly spending by 2020. BIM is helping the sustainability agenda as the digitalisation of product and process information provides a unique opportunity to optimize energy-efficiency-related decisions across the entire lifecycle and supply chain. BIM is foreseen as a means to waste and emissions reduction, performance gap minimization, in-use energy enhancements, and total lifecycle assessment.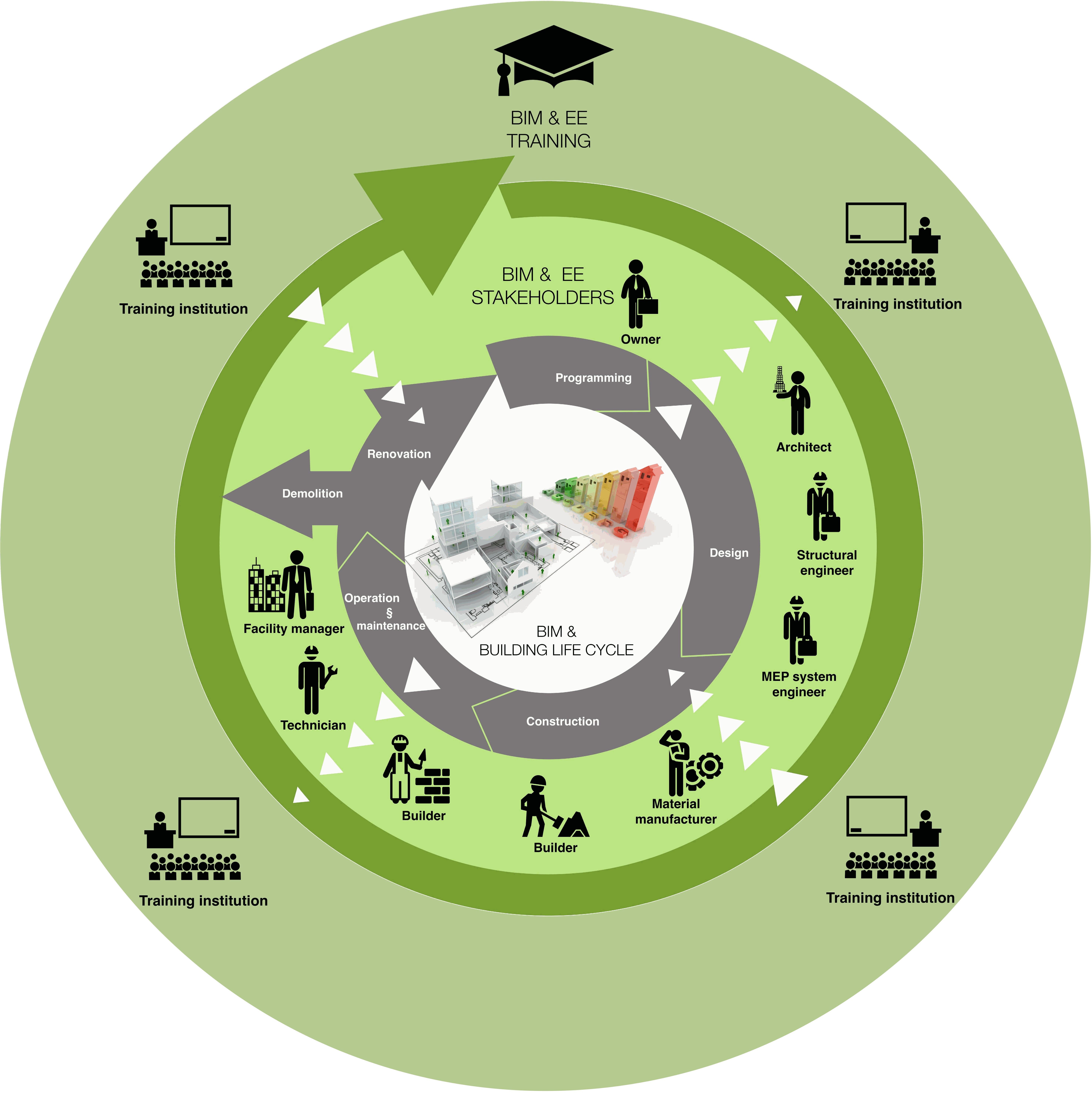 BIMEET aims to broaden the BIM training agenda in order to support the European Union building energy efficiency agenda.
The BIMEET consortium is drawing on :
the engagement of internationally leading industry best practice,

the educational excellence of leading institutions in Europe,

the robust experience of accrediting bodies in the construction domain.
Expected results
a skills matrix related to BIM and energy efficiency,

a training platform contributing to widely disseminate the BIMEET E
Bimeet has received a funding from the European Union's Horizon 2020 research and innovation programme under grant agreement No 753994.This document reflects only the author's view and the European Union is not responsible for any use that may be made of the information it contains.